Denise Snyder, Librarian
Email me at dsnyder@lcscmail.com
Library Hours:
Monday 8:30 a.m. – 3:40 p.m.
Tuesday 8:15 a.m. – 3:40 p.m.
Wednesday 8:30 a.m. – 3:40 p.m.
Thursday 8:15 a.m. – 3:40 p.m.
Friday 8:30 a.m. – 2:50 p.m.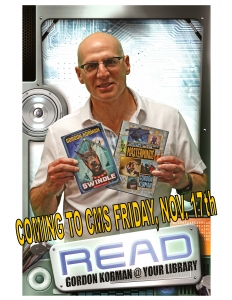 Gordon Korman
The New York Times best-selling author of Schooled, Ungifted, Masterminds, and the Swindle series, will be visiting Clark Middle School on November 17th.  Mr. Korman will address the students and also sign copies of his books.  Look for book sale information coming in October.
The 2017-18 Young Hoosier Book Award (YHBA) Nominees are here!
The twenty titles are available for students to get an early start on our March Madness Contest.  The contest officially begins in December and concludes at the end of March.  Students who read all twenty titles will earn a gift card.  Prizes will be awarded for each AR test taken on these books and students use their AR test as a raffle ticket for a chance to win bigger prizes.   Start reading now and earn a gift card and a chance to win an amazing raffle prize.  Good luck readers!
Scholastic Book Fair – November 20th – 22nd
We are always grateful to our awesome parent volunteers for making our book fair a huge success!  If you are interested in volunteering for this year's fair, please email Karley Kutka at clarkmspto@yahoo.com.  Thank you in advance for your support.
As always, the fair will be open before school for parents to shop and students will visit during their language arts class.
Little Free Library
The "LITTLE FREE LIBRARY" has been very successful!  If you'd like to donate books in the 4th to 8th grade reading levels, please bring them to the library.  Thanks for all the donations we've received over the summer from staff and students.  The shelves are stocked everyday, so take a look and find a great book!
Ongoing events in the library:
Focus on eBooks – We'll be adding to our eBook collection with many new titles.  If you have an electronic device and need assistance downloading books, please stop in the library and our friendly staff will be glad to assist you.
Ask Me What I'm Reading – We can't wait to tell you what we've been reading!  Be sure to ask.  And we want to know what you've been reading too.
Let's Build a Stronger Collection – Just a reminder… if you have a book title or an ebook title that you'd like me to purchase for our collection, please write it down and put it in the yellow LEGO suggestion box at the Circulation Desk.
NOOKS – The CMS library has received fifteen NOOK readers from the LSTA grant.  Nooks are available to students to checkout for a two week period and they may download two ebooks from the CMS library.  There is a User Agreement that must be completed by students and parent and returned to Mrs. Snyder.  There is a wait list and students will receive a NOOK in the order they return their forms.  ONLY STUDENTS IN GOOD STANDING WILL BE ALLOWED TO CHECK OUT A NOOK.  Anyone with a previous lost or damaged book fine will not be eligible to check out a NOOK.