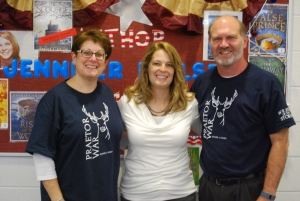 New York Times best-selling author, Jennifer A. Nielsen, visited Clark Middle School on Friday, November 18th.  Mrs. Snyder and Mr. Graber pose with Ms. Nielsen during the staff morning coffee and book signing.
Denise Snyder, Media Specialist
Email me at dsnyder@lcscmail.com
Library Hours:
Monday 8:30 a.m. – 3:40 p.m.
Tuesday 8:15 a.m. – 3:40 p.m.
Wednesday 8:30 a.m. – 3:40 p.m.
Thursday 8:15 a.m. – 3:40 p.m.
Friday 8:30 a.m. – 2:50 p.m.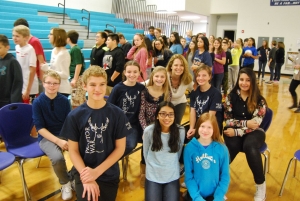 On Friday, November 18, 2016, New York Times best-selling author, Jennifer A. Nielsen met Clark AR contest winners in the gym before the 7th/8th grade presentation.
Eleven students read nine or more of Ms. Nielsen's books and won front row seats at the assembly with a friend, a specially designed Nielsen t-shirt, an autographed cope of The False Prince, and lunch with the author.  The winning students were: Claire Lindborg, Jake Sues, Claire LaVoie, Shannon Nolan, Emily Denny, Citlali Lopez, Ingrid Owczarzak, Hunter Carroll, Alex Gomez, Lucas Walker and Aubrey Carlson.  Congratulations to all the winners, you did an awesome job reading and passing the AR test to win the contest!
The 2016-17 Young Hoosier Book Award (YHBA) Nominees are here!  The twenty titles are available for students to get an early start on our March Madness Contest.  The contest officially begins in December and concludes at the end of March.  Students who read all twenty titles will earn a $25 Barnes & Noble gift card.  Prizes will be awarded for each AR test taken on these books and students use their AR test as a raffle ticket for a chance to win bigger prizes.  We have tote bags filled with new books, signed copies of Jennifer Nielsen books, and copies of signed Marie Lu & Gary Paulsen books!  Start reading now and earn a gift card and a chance to win an amazing raffle prize.  Good luck readers!
SCHOLASTIC BOOK FAIR – November 21st – 23rd
Our Scholastic Book Fair was our most successful fair to date!  Thank you to everyone who shopped and supported the library fundraiser, your support is greatly appreciated!  A big thank you goes out to parent volunteer, Karley Kutka who organized the book fair volunteers and did an awesome job.  You're hired for next year 🙂 Also, thanks to our Scholastic representative, Lesley Robinson, who came through for us big time with large quantities of Jennifer Nielsen books before our fair.  Students were able to purchase a book and meet Ms. Nielsen during the books signing session.  Thanks to our staff for working around the schedule changes for both the book fair and the author visit.  Well done everyone!!
The "LITTLE FREE LIBRARY" has been very successful!  If you'd like to donate books in the 4th to 8th grade reading levels, please bring them to the library.  Thanks for all the donations we've received over the summer from staff and students.  The shelves are stocked everyday, so take a look and find a great book!
BOOKS PREVIOUSLY DISCUSSED:
The View from Saturday by: E.L. Kongsburg
The Running Dream by: Wendelin Van Draanen
The Hunger Games Trilogy by: Suzanne Collins
The Cardturner by: Louis Sachar
Drum Girls & Dangerous Pie by: Jordan Sonnenblick
The Westing Game by: Ellen Raskin
The Fault in Our Stars by: John Green
Ongoing events in the library:
Focus on eBooks – We'll be adding to our eBook collection with many new titles.  If you have an electronic device and need assistance downloading books, please stop in the library and our friendly staff will be glad to assist you.
Come In, We're Open –  Feel Free to stop in and let us be of service to you.  The library hours are:
 Monday 8:30 a.m. – 3:40 p.m.
Tuesday 8:15 a.m. – 3:40 p.m.
Wednesday 8:30 a.m. – 3:40 p.m.
Thursday 8:15 a.m. – 3:40 p.m.
Friday 8:30 a.m. – 2:50 p.m.
Wednesday & Friday before school is reserved for special activities such as student and staff Book Clubs.  On Tuesday and Thursday we are now open at 8:15 AM for students who would like a quiet place for silent reading.  We've had a great turnout on those days and we'll continue this schedule throughout the school year.  The library closes at 2:50 PM on Fridays.
Ask Me What I'm Reading – We can't wait to tell you what we've been reading!  Be sure to ask.  And we want to know what you've been reading too.
Let's Build a Stronger Collection – Just a reminder… if you have a book title or an ebook title that you'd like me to purchase for our collection, please write it down and put it in the yellow LEGO suggestion box at the Circulation Desk.
NOOKS – The CMS library has received fifteen NOOK readers from the LSTA grant.  Nooks are available to students to checkout for a two week period and they may download two ebooks from the CMS library.  There is a User Agreement that must be completed by students and parent and returned to Mrs. Snyder.  There is a wait list and students will receive a NOOK in the order they return their forms.  ONLY STUDENTS IN GOOD STANDING WILL BE ALLOWED TO CHECK OUT A NOOK.  Anyone with a previous lost or damaged book fine will not be eligible to check out a NOOK.