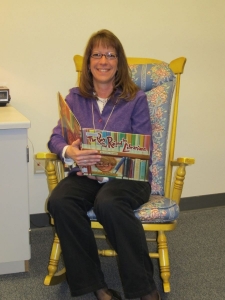 Mrs. Renee Swetlik
rswetlik@lcscmail.com
I am currently reading Word of Mouse by James Patterson and Chris Garbenstein.
(ARC copy – release date : 12/12/16)
AR Level : ___  Points : ___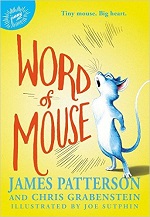 Have you ever had to change your plans numerous times?
One of our stories was Xander's Panda Party by Linda Sue Park.  It is one of our 2016-17 Indiana State Young Hoosier Nominees.
In our story, Xander wants to plan a party only to make numerous changes to his plans.  He learns he must change his point of view in order to have the party he wants.  He also uses his problem solving skills throughout this story.  He learns that by including everyone, he can make lots of new friends!
We were exposed to some challenging words (consternation, jubilation, beguiling – to name a few) and quickly realized our story rhymed.
After reading Xander's Panda Party, we conducted some research on pandas.  We were able to sort the animals into groups (fur/hide/feathers) and learned about Marsupials.
My hope was to also cover some social studies by taking a virtual field trip to some popular U.S. zoos but there was no time.  There were too many other fun things to do!
Kids STEAM ahead in Homan Library's Makerspace!
What is a Makerspace?  Just like a traditional library, it is a shared learning resource space.  A place for students to explore, discover, invent, and tinker using raw materials, repurposed items, and imagination.  Students can work individually or collaboratively.  Makerspaces inspire students to own their learning and deepen their thinking using all their senses.
The library is looking for donations for our makerspace.  Items include:
Aluminum foil
Clothes Pins
Coffee filters
Corks
Cupcake liners
Empty paper towel rolls
Empty toilet paper rolls
Foam pieces/forms
Golf tees
Plastic cups
Pipe cleaners
Popsicle/craft sticks
Q-tips
Rubber bands
Straws
String/ribbon/yarn
Tape (masking, duck, scotch)
Telephone handset cords
Toothpicks
Twist ties
Wood building blocks
Please contact Mrs. Swetlik (rswetlik@lcscmail.com or 219-322-4451 ext. 232) if you have any questions or would like to donate items such as:  Legos, Lincoln Logs, Tinker Toys, K'nex, etc.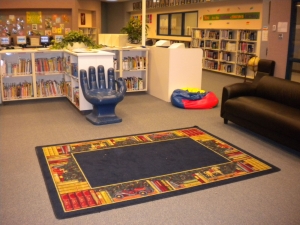 Using the Library
Students visit the library once a week with their class.  At this time, they will return and check out books, listen to a story, participate in the follow-up discussion, practice library skills and participate in any activities/contests currently being held in the library.  Students may also take Accelerated Reader quizzes and use the computers for any school-related projects.
Students are expected to be respectful and courteous to one another, the library staff, library materials and furnishings.
Books are due back the following week during library time.  Books must be returned in order to check out new books.
Students are responsible for their books.  We understand that accidents happen.  The student is responsible for informing the library staff should such a situation arise and, if necessary, pay to replace the book.  If a book should be lost or damaged while in a student's care, borrowing privileges may be withheld until the book is paid for in full.
LIBRARY CENTERS
Book Cover Puzzles
Library Superheroes Center
Library Boggle
Book Report
Kindergarten POP sight word game
Why Should We Read Aloud to our Children?
As parents, we play a critical part not only in helping our children learn to read but also in fostering a lifetime of reading.
Reading is how we discover new things.  Books, magazines and the internet are wonderful learning tools but without the ability read, they are not much use to us.  As a reader, we can educate ourselves.  We live in the information age but we need to know how to read to take advantage of all the information that is out there.  We need to be able to read to function in our day to day lives.  There are job applications to fill out, medical instructions to follow, reports and memos, map directions – just to name a few.
Reading aloud provides a model for pronunciation, develops vocabulary, and strengthens our children's social skills in a fun way.  Reading aloud also teaches our children to listen.  We all know that children love to talk but being a good listener is just as important.
Reading also provides us with the opportunity to bond with our children while having a wonderful time.  The more enjoyable reading is, the more they will want to spend their time reading.  The more time our children spend reading, the better they become at reading.
Here are some tips.
1.   Take a trip to the library and choose the books together.
2.   Give the title and author before you begin.
3.    Read with feeling, make gestures, and incorporate sounds.  The more we get into the story, the more excited our children become.
4.   Stop at an interesting part of the story and talk about what is happening.
5.   Ask questions.  What do you predict will happen next?  How is the main character feeling at this part of the story?  What would you do?
6.   If the book is challenging – take turns reading pages.  There is no reason for our children to struggle for a long time on a word.  It's acceptable to step in after a moment.  We want reading to be fun, not frustrating.
Once our children learn to read on their own we are prone to stop reading to them.  Our lives are so busy.  I can tell you that even our 4th graders love to listen to a story.  Keep reading to them!  As they get older, take turns reading the pages.  Share one of your favorite childhood stories.
Instilling a love of reading is one of the best gifts we can give our children.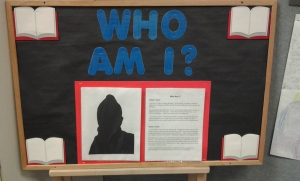 Week 1 Clues:
I was born in 1971 in Maryland.  I attended the University of Maryland in the early 1990's.  I graduated with a degree in Criminal Justice.
I wanted to be a newspaper cartoonist when I was in college.  I even had my own comic strip called "Igdoof" in the college newspaper.
I was turned down by every publisher I approached.  I received rejection letter after rejection letter.  Instead, I got married and worked as a layout designer at a small newspaper in Massachusetts and as a software engineer.
Week 2 Clues:
When I was working as a game developer, I convinced my boss to let me run my journal pages online as a comic strip.  Over 90,000 people visit my online comic strip EVERY DAY!
I am not a full-time writer.  In fact, I have a job as a virtual world designer and I created a kids' game site called Poptropica.com.
Week 3 Clues:
My first book took 9 years from start to finish.  It took 4 years to collect ideas, 4 years to write and illustrate the story, and another year to get the book published.
I currently have SEVEN best sellers, a major motion picture, and — perhaps best of all — a character balloon in the Macy's Thanksgiving Day parade.
eBooks have arrived at the Homan Library!
More than just pages on a screen – eBooks enhance the reading experience in the library, the classroom and at home.
How do students, teachers and administrators check out Follett eBooks?  Students can use an Internet browser to read or checkout a Follett eBook at any computer that can access our library's electronic catalog.  Students and teachers have been assigned user names and passwords.
Click the Follett Shelf logo to log in and begin browsing our eBooks: